The Barcelona of Perfume
Synopsis:

Jean-Baptiste Grenouille is born in a market surrounded by the remains of rotting fish and abandoned by his mother among the rubbish. He spends his childhood in orphanages where he is rejected by his wet nurses and fellow orphans, due to his lack of bodily scent and his obsession with seeing the world through the aroma of things. He is blessed with outstanding olfactory senses. At the age of 20, after working in a tannery, he is apprenticed to the perfumer Baldini, who teaches him to distil essences. However, Grenouille wants to go even further and capture the scent of objects such as glass and the scent of women in particular. Baldini becomes rich from the perfumes that Grenouille creates for him and, in exchange, writes a letter of recommendation for him so that he can learn the art of enfleurage in the world's perfume capital, Grasse. On his arrival, he achieves his objective: to create a perfume based on the essence of young girls who live in the city, whom he kills and mutilates in order to obtain it.

| | |
| --- | --- |
| Technic list | Artistic list |

Main prizes

Bambi

:

Best actor

(Ben Whishaw)

,

Best director

(Tom Tykwer)

,

Best production

(Bernd Eichinger)

,

Bavarian Film

:

Best director

(Tom Tykwer)

,

Best production design

(Uli Hanish)

,

German Film

:

Best production design

(Uli Hanish)

,

Best cinematography

(Frank Griebe)

,

Best editing

(Alexander Berner)

,

Best sound

,

Best costume design

(Pierre-Yves Gayraud)

Did you know that...
• The film Perfume: History of a Murderer, is based on the 1985 novel of the same name by the German author Patrick Suskind, which has become a worldwide best-seller and been translated into over 45 languages.
• After reading the first edition of the novel in 1985, the producer Bernd Eichinger wanted to buy the rights to the film. The friendship between the author and Eichinger should have led to a favourable and swift outcome, but it was not to be. In fact, he didn't obtain the rights until the year 2001, at a cost of 10 million euros.
• Patrick Suskind is known to be a highly sceptical person. His experience with the producer Bernd Eichinger and other people who were desperate to acquire the rights was turned into a satirical film (Rossini, 1997), with a script by Suskind himself.
• The budget for the film came to 60 million euros, making it the most expensive German film of all time.
• It made 135 million euros at the box office, and is the 40th highest-grossing film.
• The first major difficulty was to write a convincing enough script to bring to the big screen a story based on a single character, who is cut off from the world and can only communicate through smell. The screenplay was co-written by Bernd Eichinger, Tom Tykwer and Andrew Birkin, and took over two years to complete.
• From the very outset, the production team set themselves the basic objective of presenting a realistic Paris which isn't idealised as is the case with so many paintings from the period. This involved making over 150 sketches and drawings which they analysed jointly every fortnight. It took five months for the two artists to put together all the necessary material.
• Shooting took place from 12th July to 16th October 2005. The first fortnight of filming was at the Babaría Studios in Munich and included the scenes of Baldini and Grenouille in their workshop.
• Filming in Barcelona and around Catalonia lasted for almost two months. Scenes were also shot in Girona, Figueres, Besalú, Cantallops, Tamarit and Tortosa.
• The crew consisted of 350 people, and 67 actors and over 5,000 extras took part.
• The most difficult part of the casting process was to find an actor to play the role of Grenouille. Tom Tykwer decided on Ben Whishaw after seeing him play Hamlet at the Old Vic Theatre in London.
• The perfume used in the film was created using the methods of the period, with the addition of the occasional cinematographic effect.

The Barcelona of Perfume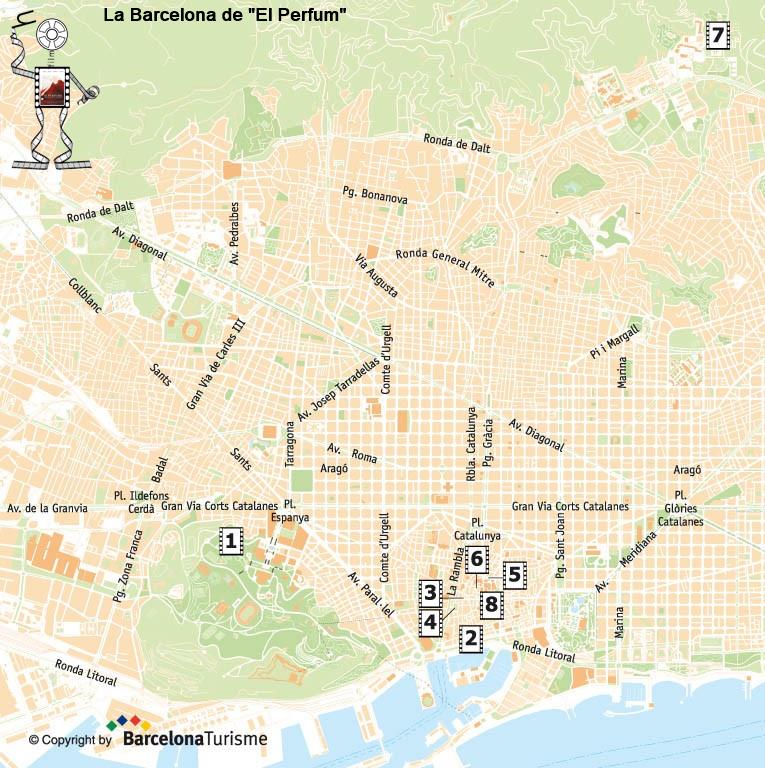 1
El Poble Espanyol
Grenouille is due to be executed in the middle of the square, but his perfume triggers an unexpected outcome.


Avinguda Marquès de Comillas




Metro - Línia 1 - Espanya

2
Plaça de la Mercè
Grenouille is born and dies in this square.


Plaça de la Mercè




Metro - Línia 3 - Drassanes

3
Carrer Ferran
Grenouille, in a semi-ecstatic state, walks along surrounded by people, trying to capture the smells detected by his remarkable olfactory senses.


Carrer Ferran




Metro - Línia 4 - Jaume I

4
Plaça Reial
Grenouille discovers a perfumer's shop for the first time and realises that he could make a career out of creating perfumes.


Plaça Reial




Metro - Línia 3 - Liceu

5
Cathedral
Grenouille walks engrossed around the Cathedral following the irresistible scent of a young girl selling plums


Avinguda de la Catedral




Metro - Línia 4 - Jaume I

6
Plaça Sant Felip Neri
Grenouille accidentally strangles the plum seller and undergoes the subsequent frustration of not being able to retain her scent.


Plaça Sant Felip Neri




Metro - Línia 4 - Jaume I

7
Parc del Laberint d'Horta
The Richis family mansion.


Passeig Castanyers 1




Metro - Línia 3 - Mundet

8
Esglèsia dels Sants Just i Pastor
The Bishop of Grasse preaches an angry sermon to a disorientated crowd.


Plaça Sant Just 6




Metro - Línia 4 - Jaume I